Get Started with Black Canyon Dental Today
Have you been looking for the right dentist for you and your family?
If you are looking for a dentist in Montrose who will provide you with the care, comfort, and attention you desire then call today to schedule an appointment. Black Canyon Dental is always welcoming new patients.
Our Montrose dental practice accepts all major insurances and most PPOs.
New Patients
Click Image Below, Print, and Bring with you on your First Visit.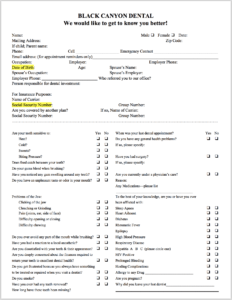 How will you follow up with me?
After you submit the form above a staff member will be in touch with you as soon as possible. Before your appointment we will send you text or email reminders depending on your preference.